P.W. Singer

Hits: 907
Meet the Sims … and Shoot Them
P.W. Singer -
The country of Ghanzia is embroiled in a civil war. As a soldier in America's Army, your job is to do everything from protect U.S. military convoys against AK-47-wielding attackers to sneak up on a mountain observatory where arms dealers are hiding out. It is a tough and dangerous tour of duty that requires dedication, focus, and a bit of luck. Fortunately, if you get hit by a bullet and bleed to death, you can reboot your computer and sign on under a new name.
America's Army is a video game — a "tactical multiplayer first-person shooter" in gaming lingo — that was originally developed by the U.S. military to aid in its recruiting and training, but is now available for anyone to play. Among the most downloaded Internet games of all time, it is perhaps the best known of a vast array of video game-based military training programs and combat simulations whose scope and importance are rapidly changing not just the video-game marketplace, but also the way the U.S. military finds and trains its future warriors and even how the American public interfaces with the wars carried out in its name. For all the attention to the strategic debates of the post-9/11 era, a different sort of transformation has taken place over the last decade — largely escaping public scrutiny, at modest cost relative to the enormous sums spent elsewhere in the Pentagon budget, and with little planning but enormous consequences.
These "games" range from the deadly serious, like programs designed to train soldiers in cultural sensitivity or help veterans overcome the trauma of combat, to the truly outlandish, like a human-sized hamster wheel that makes virtual-reality software feel more realistic. There are even video-game modules that teach soldiers about the perils of sexual harassment. All told, the U.S. military is spending roughly $6 billion each year on its virtual side, embracing the view, as author Tom Chatfield put it, that "games are the 21st century's most serious business."
Isidro Ortiz |  Draft NOtices | October - December 2017
Editor's Note: For this article, Isidro Ortiz interviewed Juan Perez, a Marine veteran majoring in sociology at San Diego State University. Juan will be graduating in May 2018 and plans to pursue a career in social justice activism.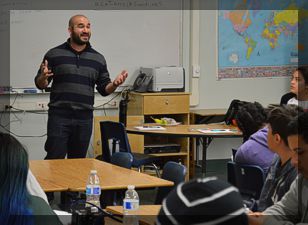 Anti-militarism is often associated with the Baby Boomer generation. Thus, as the generation begins to pass, it might appear that anti-militarism does not have a future. Missed in such an observation is the emergence of a new crop of activists in generations X and Y. Juan Perez is one of those new activists.
Juan describes himself as "woke." According to the Oxford English Dictionary, "woke" is defined as being "alert to injustice in society, especially racism." When Juan describes himself as "woke" he is light years away from where he was at the time he enlisted in the Marine Corps during his senior year in high school. Juan grew up as an undocumented immigrant in one of the poorest communities, City Heights, in San Diego. In this community he attended some of the city's lowest-performing schools. By his own admission Juan was not socially or politically conscious at that time. Indeed, he gave little thought to societal conditions and was "gung-ho" about joining the Marines.
How did Juan become woke? The roots of Juan's woke lie in an incident during his tour of duty in Helmut Province in Afghanistan. While on patrol Juan's unit spotted what appeared to be an Improvised Explosive Device (IED). In keeping with protocol, the unit communicated to headquarters, which in turn informed the specialized team charged with IED disposal. Within a short time, Juan's unit was instructed to verify that the suspicious item was indeed an IED. Verification would require a physical inspection of the item.
Juan and a fellow Marine volunteered to fulfill the verification task. While this at first seemed to be the appropriate action for a couple of gung-ho Marines, it turned out to be more momentous than Juan had expected.
Juan and his fellow Marine approached the suspicious item. Verification, of course, required that the item be physically lifted and inspected.  Without stopping to think about the wisdom of such hazardous and possibly deadly actions, but in keeping with his tendency to follow orders, Juan lifted and inspected the item. He then returned to his post.