The National Network Opposing the Militarization of Youth (NNOMY)
David Swanson -
U.S. military recruiters are teaching in public school classrooms, making presentations at school career days, coordinating with JROTC units in high schools and middle schools, volunteering as sports coaches and tutors and lunch buddies in high, middle, and elementary schools, showing up in humvees with $9,000 stereos, bringing fifth-graders to military bases for hands-on science instruction, and generally pursuing what they call "total market penetration" and "school ownership."
But counter-recruiters all over the United States are making their own presentations in schools, distributing their own information, picketing recruiting stations, and working through courts and legislatures to reduce military access to students and to prevent military testing or the sharing of test results with the military without students' permission. This struggle for hearts and minds has had major successes and could spread if more follow the counter-recruiters' example.
Sarah Grey, Truthout | Report

When he got home from Iraq, Hart Viges began sorting through his boyhood toys, looking for some he could pass on to his new baby nephew. He found a stash of G.I. Joes - his old favorites - and the memories came flooding back.
"I thought about giving them to him," he said. But the pressures of a year in a war zone had strengthened Viges' Christian faith, and he told the Army that "if I loved my enemy I couldn't see killing them, for any reason." He left as a conscientious objector. As for the G.I. Joes, "I threw them away instead." Viges had grown up playing dress-up with his father's, grandfather's and uncles' old military uniforms. "What we tell small kids has such a huge effect," he told Truthout. "I didn't want to be the one telling him to dream about the military."
As the mother of a 6-year-old, I know what he means. My partner and I, as longtime antiwar activists, work hard to talk to our daughter about war, violence and peace in age-appropriate ways.
Pat Elder -
For years DOD recruiting commanders have attempted to circumvent student privacy protections that are designed to shield minors from the wholesale transfer of student information from the nation's high schools to the Pentagon's Military Entrance Processing Command.
The DOD markets "career opportunities" through the schools, relying on a variety of methods, from Channel One, a 12-minute, highly commercialized, daily TV program that reaches as many as 5 million children a day, to various posters and announcements touting military service or other schemes like the Career Exploration Program. For the most part, however, these outreach efforts ultimately rely on the schools as a third party from which to extract student data. Until now, the DOD's quest for greater access to children has been somewhat stymied by pesky state and federal laws that regulate the flow of student information from the schools.
Should the military be allowed to recruit in public schools?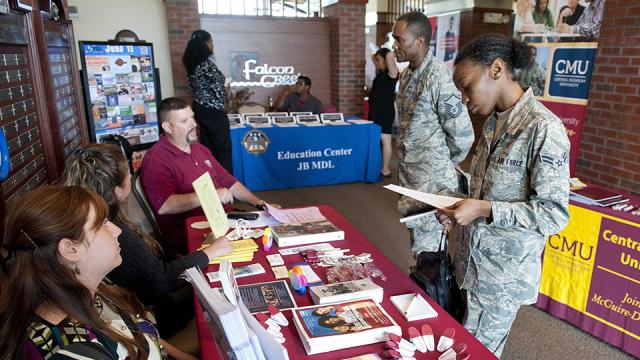 With the USA and its allies involved in 2 major conflicts in recent years, military recruitment has become an important issue. But some parents and teachers have protested about military personnel visiting schools to talk to students about the armed forces. This often happened in the past anyway, but since 2002 the No Child Left Behind Act has meant that US schools which receive government money must allow the military in to talk to students. In the UK between a third and half of all new military recruits are under 18, with many joining after meeting serving personnel at their schools. This has led the British National Union of Teachers to pass a motion in 2008 condemning military recruitment in schools. One of the more common proposals is to ban military recruiting of those that are under 18 (the age at which individuals can join the military usually), which would severely limit the ability of recruiters to operate in high schools.
By Seth Kershner & Scott Harding -
The United States stands alone among Western nations in allowing military recruiters to work inside its educational system. Section 9528 of the 2001 No Child Left Behind Act requires that public high schools give the military as much access to campuses and student contact information as is given to any other recruiter. However, University of Kansas anthropologist Brian Lagotte finds that school officials do not fully understand this policy and often provide military recruiters unrestricted access to their campuses. Many schools allow military recruiters to coach sports, serve as substitute teachers, chaperone school dances, and engage in other activities. In some cases, recruiters are such a regular presence in high schools that students and staff regard them as school employees.
The military does not advertise what it is doing in public schools. But for the past four years, we have been researching those who make it their business to closely monitor the actions of military personnel in schools: parents, students, military veterans, and citizens affiliated with the grassroots "counter recruitment" movement. Many of them told us that state education commissioners, district superintendents, school principals, and other policymakers react with surprise at their efforts to rid schools of the undue influence of military personnel. In fact, most public officials are unaware of the extent of the military's presence in education settings and the ways in which the Pentagon can access private data about high school students. Until now, there has been a lack of hard data describing the extent of military involvement in schools.
Last year, in response to a Freedom of Information Act request, the U.S. Army provided us with documents about recruiter activities in Connecticut high schools during the 2011-12 academic year.
By Pat Elder -
During the Second Battle of Fallujah in November 2004, 1st Lt. Jesse A. Grapes saved the lives of three wounded marines in his platoon by entering a burning house, where he encountered the enemy soldier who had been firing at his troops. Six years later Grapes was named headmaster of Benedictine College Preparatory, a Catholic military school in Richmond, Virginia. The June 2010 issue of the school's newspaper, The New Chevron, called Grapes a "patriotic war hero."
In describing Grapes' Iraq War exploits, Benedictine's student newspaper dismissed the fact he was accused of ordering marines under his command to shoot four captured prisoners. Grapes refused to talk to government investigators, citing his Fifth Amendment rights.
It's quite a lesson for students at Benedictine, which is kind of a poster child for the modern militarized Catholic school. Every year Benedictine requires all juniors to take the military entrance exam. The school operates an Army JROTC program and has a student organization that teaches students how to use small arms. Of course, these are expected activities in a military school. The question is whether these activities are appropriate in a Catholic school.
By Victoria Harper, Truthout | Interview
Discussing his new book, Henry A. Giroux argues that what unites racist killings, loss of privacy, the surveillance state's rise, the increasing corporatization of US institutions and growing poverty and inequality "is a growing threat of authoritarianism - or what might be otherwise called totalitarianism with elections."
Victoria Harper: Your new book has a very provocative and suggestive title: The Violence of Organized Forgetting. How does the title work as an organizing idea for the book?
Henry A. Giroux: We live in a historical moment when memory, if not critical thought itself, is either under attack or is being devalued and undermined by a number of forces in American society. Historical memory has become dangerous today because it offers the promise of lost legacies of resistance, moments in history when the social contract was taken seriously (however impaired), and when a variety of social movements emerged that called for a rethinking of what democracy meant and how it might be defined in the interest of economic and social justice.
Subscribe to NNOMY Newsletter
NNOMYnews reports on the growing intrusions by the Department of Defense into our public schools in a campaign to normalize perpetual wars with our youth and to promote the recruitment efforts of the Pentagon.
Donate to NNOMY
Your donation to NNOMY works to balance the military's message in our public schools. Our national network of activists go into schools and inform youth considering military service the risks about military service that recruiters leave out.