Frontpage - The National Network Opposing the Militarization of Youth (NNOMY)
Isidro Ortiz |  Draft NOtices | October - December 2017
Editor's Note: For this article, Isidro Ortiz interviewed Juan Perez, a Marine veteran majoring in sociology at San Diego State University. Juan will be graduating in May 2018 and plans to pursue a career in social justice activism.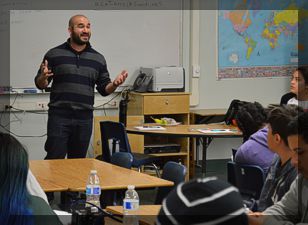 Anti-militarism is often associated with the Baby Boomer generation. Thus, as the generation begins to pass, it might appear that anti-militarism does not have a future. Missed in such an observation is the emergence of a new crop of activists in generations X and Y. Juan Perez is one of those new activists.
Juan describes himself as "woke." According to the Oxford English Dictionary, "woke" is defined as being "alert to injustice in society, especially racism." When Juan describes himself as "woke" he is light years away from where he was at the time he enlisted in the Marine Corps during his senior year in high school. Juan grew up as an undocumented immigrant in one of the poorest communities, City Heights, in San Diego. In this community he attended some of the city's lowest-performing schools. By his own admission Juan was not socially or politically conscious at that time. Indeed, he gave little thought to societal conditions and was "gung-ho" about joining the Marines.
How did Juan become woke? The roots of Juan's woke lie in an incident during his tour of duty in Helmut Province in Afghanistan. While on patrol Juan's unit spotted what appeared to be an Improvised Explosive Device (IED). In keeping with protocol, the unit communicated to headquarters, which in turn informed the specialized team charged with IED disposal. Within a short time, Juan's unit was instructed to verify that the suspicious item was indeed an IED. Verification would require a physical inspection of the item.
Juan and a fellow Marine volunteered to fulfill the verification task. While this at first seemed to be the appropriate action for a couple of gung-ho Marines, it turned out to be more momentous than Juan had expected.
Juan and his fellow Marine approached the suspicious item. Verification, of course, required that the item be physically lifted and inspected.  Without stopping to think about the wisdom of such hazardous and possibly deadly actions, but in keeping with his tendency to follow orders, Juan lifted and inspected the item. He then returned to his post.
Greta Zarro -
America is up in arms about guns. If last month's "March for Our Lives," which attracted over one million marchers nationwide, is any indication, we've got a serious problem with gun violence, and people are fired up about it.  
But what's not being talked about in the mainstream media, or even by the organizers and participants in the March for Our Lives movement, is the link between the culture of gun violence and the culture of war, or militarism, in this nation. Nik Cruz, the now infamous Parkland, FL shooter, was taught how to shoot a lethal weapon in the very school that he later targeted in the heart-breaking Valentine's Day Massacre. Yes, that's right; our children are trained as shooters in their school cafeterias, as part of the U.S. military's Junior Reserve Officers' Training Corps (JROTC) marksmanship program.  
Nearly 2,000 U.S. high schools have such JROTC marksmanship programs, which are taxpayer-funded and rubber-stamped by Congress. Cafeterias are transformed into firing ranges, where children, as young as 13 years old, learn how to kill. The day that Nik Cruz opened fire on his classmates, he proudly wore a t-shirt emblazoned with the letters "JROTC." JROTC's motto? "Motivating Young People to Be Better Citizens." By training them to wield a gun?  
Perhaps what's key above all, however, is that JROTC, and U.S. militarism as a whole, is embedded in our sociocultural framework as Americans, so much so that to question it is to cast doubt on one's patriotic allegiance to this nation.
Pat Elder - May 23, 2018 - 
Both Nik Cruz, the Parkland shooter, and Dimitri Dimitrios Pagourtzis, the Santa Fe shooter, were emotionally distraught because of girls who rejected their advances. They were both outcasts in their respective high schools. They both played video games that simulated war.  In his Facebook bio, Dimitri showed interest in joining the US Marine Corps "starting in 2019." Nik Cruz felt more at home with the Army.
This is not a cheap shot. The military recruits gamers from the virtual world.
The America's Army(link is external) video game, a vicious first-person shooter game, has millions of avid fans. It is one of the world's most frequently downloaded games. According to a study by researchers at the Massachusetts Institute of Technology, "the game has more impact on recruits than all other forms of Army advertising combined."
The military exploits the visceral appeal of virtual killing.  More than that, the Pentagon seeks virtual shooters who have developed surprisingly complex strategic and tactical skills learned through thousands of hours of gaming experience. These skills are like those commanders on the battlefield use in real combat.
The U.S. Army Com­bined Arms Center-Training has its own Massively Multiplayer Role Playing Games (MMRPGs) to train new recruits. The system, similar to World of Warcraft(link is external), allows in­dividual soldiers around the world to log into the Army MMRPG and play as individuals or as units.
Thanks to the great defender of freedom, Edward Snowden, we know about a 2013 NSA Document(link is external), "Exploiting Terrorist Use of Games & Vir­tual Environments." The NSA and the CIA have teamed up with the UK's Government Communications Headquarters GCHQ to deploy real-life agents into the virtual World of Warcraft and has infiltrated Xbox Live with tens of millions of players worldwide. The world's two top spy agencies can identify a labyrinth of social networks of those with the inclination for virtual killing. The targets of the espionage may be in Syria or Venezuela; Florida or Texas.
In World of Warcraft, players everywhere on earth share the same virtual world, walking, running, travelling around, and killing a variety of computer-generated monsters, along with custom-designed human avatars made by shooters 10,000 miles away.  Build your own here!(link is external)
Pro Publica, a recipient of Snowden's release, describes, "killing computer-controlled monsters or the avatars of other players, including elves, animals or creatures known as orcs. Players create customized human avatars that can resemble themselves or take on other personas — supermodels and bodybuilders are popular — who can socialize, buy and sell virtual goods, and go places like beaches, cities, art galleries and strip clubs."
Real and virtual are blurred.
SAIC, the defense contractor behemoth, has studied MMORPG's and concludes they can be used for a variety of purposes by America's enemies, from recruiting members, training fighters, and spreading propaganda –  like the US does with The America's Armyvideo game.
It is ironic to consider the NSA may well have data on both Cruz and Pagourtzis who likely played MMORPG's.
Peter G. Anderheggen | Originally published in Draft NOtices - August/September, 2017
Winsted Area Peace Action has been visiting high schools in northwestern Connecticut for at least ten years. The purpose of our visits has been to introduce and discuss with students alternative methods of service to the country and non-military means of earning money after high school. Our goal is to bring some contrast to the appeal of the military, which spends many millions of dollars in its recruiting efforts. We make information available on such organizations as AmeriCorps, Peace Corps, Peace Brigades International and Heifer International, all of which take people who are age 18 or older.

We are usually invited during the lunch periods, often with a table set up in the vicinity of the cafeteria. There are several lunch sessions and invariably the students arrive in droves, hungry and eager to visit with friends. Our challenge is to present something that catches their eyes and engages them.

About five years ago, one of our members who was carrying out research for a book, Seth Kershner, went to Austin, Texas, and visited a high school along with Sustainable Options for Youth (SOY). He saw how a peace wheel could be effectively used to attract students to a table. The wheel intrigued our members and we ordered one from Thomas Heikkala, a Vietnam veteran and skilled carpenter who was one of the founding members of SOY.
The National Network Opposing the Militarization of Youth will be participating in the 2017 Veterans For Peace National Convention in Chicago August 11th, 2017. Located at the beautiful and historic Palmer House Hotel, veterans and allies will gather to discuss "Education Not Militarization". Registration begins on Wednesday, August 9th and ends on August 13th with a benefit concert by Jackson Browne. The week will be filled with amazing workshops, discussions, community and music. 
NNOMY will be presenting a Mini Plenary workshop between 1:30 and 3:00pm in the Spire meeting room on Friday, August 11th 2017 with the theme, Education Not Militarization: The Nuts and Bolts of Pursuing Policy Changes to Counter Recruitment and Demilitarize Schools. 
In the Hancock room, at 3:15 to 4:45pm NNOMY will conduct the workshop, Education Not Militarization: Educating students and countering military recruitment inside the schools, with multiple presenters. Please be on time so we can cover all the materials and have time for questions.
Pat Elder | Originally published in Popular Resistance - June 29, 2017
Wars start in our high schools and this is where we can end them.
This year the Army's goal is to recruit 80,000 active duty and reserve soldiers. The Navy is trying to sign up 42,000; the Air Force is looking for 27,000, and the Marines hope to bring on 38,000. That comes to 187,000.  The Army National Guard will also attempt to lure 40,000.
These soldiers are needed to maintain the status quo for a year, aside from a last-minute increase of 6,000 additional Army soldiers added by President Obama.
The Pentagon is attempting to recruit somewhere around 227,000 troops this year, and they're having one hell of a time finding them, even while they enjoy unprecedented physical access to kids in our high schools and equally unprecedented exposure to their minds through popular culture.  In 2010 there were 30.7 million Americans between the ages of 18 and 24. 227,000 works out to .73% of prime recruiting age.
The military is forced to relax several standards to bring in soldiers. They say today's kids are either too fat or too dumb or too misbehaved to make the grade.  They claim youth are misinformed about life in the military, but we know most youth don't want to relinquish their freedom and risk their lives to serve in a military that is overly enthusiastic about going to war.
Pat Elder |  Counter-Recruit Press | July 2017
Leading health organization calls for ending school recruiting
In 2012 the American Public Health Association, (APHA), one of the country's foremost health organizations and publisher of the influential American Journal of Public Health, adopted a policy statement calling for the cessation of military recruiting in public elementary and secondary schools.
APHA demands the elimination of the No Child Left Behind Act requirement that high schools both be open to military recruiters and turn over contact information on all students to recruiters and eliminating practices that encourage military recruiters to approach adolescents in US public high schools to enlist in the military services.1
APHA identifies several compelling public health reasons in calling for the cessation of military recruiting in the public schools. Most importantly, they argue that adolescents experience limitations in judging risk at this stage in life and they are unable to fully evaluate the consequences of making a choice to enter the military. The pre-eminent health organization points to the greater likelihood that the youngest soldiers will experience increased mental health risks, including stress, substance abuse, anxiety syndromes, depression, posttraumatic stress disorder, and suicide.