Pat Elder -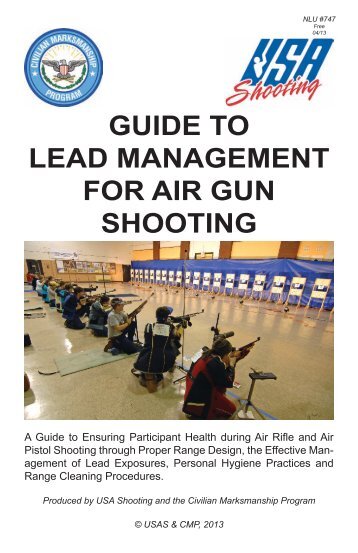 The Guide to Lead Management for Air Gun Shooting produced by the Civilian Marksmanship Program (CMP), 2013, is a misleading publication that may seriously jeopardize the health of millions of high school children and staff across the nation who may come into contact with lead particulate matter as a result of inadequate supervision and maintenance of indoor firing ranges.
The CMP provides mandatory training and curriculum to Army, Marine Corps, Navy, and Air Force JROTC Marksmanship Instructors.  The course covers how to safely and properly conduct air rifle live firing in the nation's high schools.
This CMP publication is based on dated and questionable science. It minimizes the health risks associated with indoor firing ranges using air rifles and pistols.
HET exhibited gross technical incompetence
Technical aspects of the CMP guide rely on the findings of Health & Environmental Technology LLC (HET), an environmental testing firm from Colorado Springs, Colorado.  The sole employee of HET is Mr. Robert Rodosevich. HET has come under scrutiny in Colorado for "gross technical incompetence in technical compliance."
HET was contracted last year by a listing Realtor to prepare a "Preliminary Assessment" of the degree of contamination of a house used as methamphetamine lab. HET came very close to giving the house a clean bill of health before properly licensed professionals were called in to conduct a thorough and legal evaluation of the highly contaminated residence.