A Mission to change the US War Culture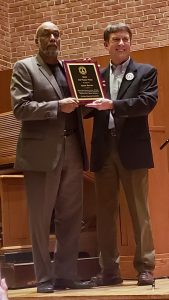 Teaching foreign language in a public high school through the horrors of 9/11 and the subsequent calls for war had been challenging for those like me who believe in making connections in our world and beyond. We had always been encouraged through best practices to use authentic material in lesson plans and classroom realia.
So, a crowning achievement in my classroom had been the permanent display of the Italian PACE (peace) flag, a universal symbol of peace and solidarity, before, during and after the Iraq War. It was hung from millions of homes, businesses, balconies throughout Italy, the EU, and places worldwide to oppose and warn against the insistence of the U.S. government to wage war. Students enjoyed exchanging peace signs, yet these simple peaceful acts are often condemned in the U.S. as subversive and unpatriotic.
Why isn't peace a priority? After all, we all ideally want our families to get along, have peace in our own lives through techniques of deep breathing, exercises, music, prayer, and/or meditation? So why doesn't this concept follow on a greater scale? There are several theories, but one of the best proposed comes from Michael D. Knox, PhD, Distinguished University Professor and founder of the US Peace Memorial Foundation. (https://www.uspeacememorial.org)
Dr. Knox's idea proposes giving value to promoting peace by honoring those who take a stand in its honor. In addition to the proposal of a US Peace Memorial to give balance to those people and organizations who have and continue to work tirelessly for peaceful alternatives to war, there are two other parts of this organization.
A publication, the US Peace Registry (https://www.uspeacememorial.org/Registry.htm) recognizes and documents the activities of U.S. citizens, permanent residents, and organizations that have publicly opposed military solutions (including invasion, occupation, production of weapons of mass destruction, use of weapons, sanctions, and threats of war), rather than diplomacy and global cooperation, to solve international problems. Dr. Knox's hope is that "honoring these courageous role models and leaders will inspire new generations of Americans to speak out for peace and to work to end the hatred, ignorance, greed, and intolerance that lead to war."
Choosing from among those recognized in the US Peace Registry, this not-for-profit Foundation awards the US Peace Prize each year  to recognize and honor the most outstanding American antiwar leaders. These courageous individuals and organizations have publicly opposed U.S. war and militarism, often at great personal sacrifice.  US Peace Prize recipients include: Ajamu Baraka (2019), David Swanson (2018), Ann Wright (2017), Veterans for Peace (2016), Kathy Kelly (2015), CODEPINK Women for Peace (2014), Chelsea Manning (2013), Medea Benjamin (2012), Noam Chomsky (2011), Dennis Kucinich (2010), and Cindy Sheehan (2009).  Nominees considered by the US Peace Memorial Foundation in 2019 included Erica Chenoweth, Stephen D. Clemens, Thomas C. Fox, Bruce K. Gagnon, Jewish Voice for Peace, National Network Opposing the Militarization of Youth, Sally-Alice Thompson, Women's March on the Pentagon and World BEYOND War.
These role models are celebrated to inspire other Americans to speak out against war and to work for peace.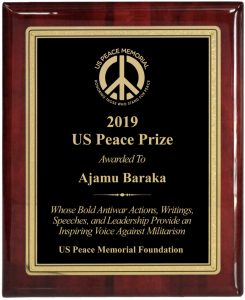 But how can people participate?  To help continue this important work, join the list of individuals, organizations, and US Peace Prize recipients who are Founding Members, and have your name permanently associated with peace. Founding Members are listed on the website (https://www.uspeacememorial.org/Donors.htm), in the US Peace Registry, and eventually at the US Peace Memorial, a national monument to be built in Washington, DC. Then, as one or the nearly 400 Founding Members, you may nominate individuals or organizations to be considered for the 2020 US Peace Prize.  International supporters are also welcome to participate.  One Founding Member from Holland wrote "…the whole world would benefit from a less militaristic USA."  Nominations close on April 30 this year.  See the details of the nomination process at the bottom of https://www.uspeaceprize.org.
By understanding, sharing, and supporting the vision of building a peaceful world, we validate those who dedicate their time and efforts in honoring it. The US Peace Memorial Foundation makes known the antiwar sentiments of many American leaders—views that history has often ignored—and by documenting contemporary U.S. antiwar activism, they send a clear message to citizens that advocating for peaceful solutions to international problems and opposing war are honorable and socially acceptable activities in our democracy.  In the words of John Fitzgerald Kennedy (1917-1963), "War will exist until that distant day when the conscientious objector enjoys the same reputation and prestige that the warrior does today."
Watch the 2019 US Peace Prize presentation
Source: https://www.pressenza.com/2020/03/us-peace-prize-how-much-is-peace-worth/
###